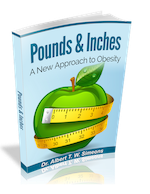 Download Dr. Simeons' ebook "Pounds & Inches: A New Approach to Obesity" FREE:
Back in the 1950's, a British doctor stationed in India made a revolutionary discovery. It was possible to target fat, preserve muscle, and rapidly lose weight, comfortably, without starving yourself.

Dr. Simeons found the key was the optimal level of a glycoprotein, naturally found in the body, that triggers fat loss when following a specific diet.

Dr. Simeons successfully treated thousands of people over the next couple of decades with his diet protocol at his practice in Rome, while he carefully analyzed how various foods affected results.

In the 1970's he published his findings in the groundbreaking book: "Pounds & Inches: A New Approach to Obesity" which you can download for free from this page.

Doctors from all over the world who read Dr. Simeons book came to Rome to see how he was so successful treating obesity.

Many of these doctors were from the United States and they returned to the US and opened Weight Loss clinics using their own variations of Dr. Simeons' diet protocol.

Ads in newspapers started appearing in the 70's for 'fast weight loss'. Unfortunately, the protocol that Dr. Simeons spent decades perfecting had been modified, causing mixed results.

These doctors failed to heed Dr. Simeons' warning about making variations in his diet protocol which he spent DECADES testing and refining in his own clinic.

Therefore, over time, Dr. Simeons' Protocol disappeared from the scene.

In the late 90's, an author named Kevin Trudeau re-introduced the world to Dr. Simeons' diet protocol with his best-selling book "The Weight Loss Cure They Don't Want You to Know About".

Suddenly the Simeons' Protocol Diet became hot again, but there were 2 problems:

First, Dr. Simeons' Protocol requires daily injections of a pharmaceutical which is only available by prescription, unless you obtain it illegally.

Secondly, the weight loss clinic may not be adhering to the original Simeons' protocol.

To solve these problems, TrimYou started in 2009 as the first and only Certifying Organization for weight loss clinics that were following Dr. Simeons' original Protocol.

Around the same time, a homeopathic version of the pharmaceutical hit the market and people started doing Dr. Simeons' Protocol without a prescription of hormone injections, and without the steep price of a weight loss clinic.

These homeopathic versions of the pharmaceutical were actually illegal and were labeled and marketed in a way that caught the attention of the FDA and FTC.

Like most people, we didn't believe switching out the prescription pharmaceutical for a homeopathic substitute would work.

We set out to prove it wouldn't work and we documented the results.

TrimYou found a FDA-regulated manufacturer that is also certified kosher and organic. Together we set out to produce a test batch of our TrimYou 'homeotherapeutic' oral spray.

Because of our unique 'magnetic remanence' process, TrimYou Spray is legal without a prescription and it's the most potent version available.

We ended up proving ourselves wrong: It really was possible to get great results with Dr. Simeons' Protocol using a homeotherapeutic version of the pharmaceutical.

We have been selling TrimYou Spray on our website since 2009 and we have a 99+% customer satisfaction rate and 99+% success rate with our product.

There are over 30,000 satisfied TrimYou Spray customers that have collectively lost over 1 million pounds.

Try it yourself Risk Free - we have a 30 Day Money Back Guarantee.

And think about this: Over the course of 1 round of Simeons' Protocol, just 43 days, you'll save more money on food than the cost of a bottle of TrimYou Spray. It pays for itself!
Watch this YouTube video on the science of how TrimYou Spray is made and why it works:
Some Of Our Customers Say:

"Very pleased! Only been 2 weeks and down 9.75 inches and 15 pounds!! WaHoo!!!"Christine K. Banta

"I love this product because I have constantly struggled with obesity all my life. If you stick to the protocol you can lose the wait without fail. It took me 3wks to lose 26lbs. It is like someone said in a review, a bikini in a bottle. You don't have to kill yourself in the gym. Just stick to the protocol because everytime you step on the scale you would have lost 2-4lbs daily. I mean fat not water weight. My friend from high school introduced me to this product. When I saw her after not seeing her for some years in which everytime I saw her she was like me over 200 lbs. This time when I saw her she looked like she looked in high school and she had on a form spandex fitting white long skirt and top outfit. Ladies we know that white and that kind of material will show fat and dimples in your butt and thighs. I asked her what was she doing and she pulled out this bottle formerly called my fat cure. Finally a weight loss product that will give results if you do your part which is follow the protocol. Yes the food choices get boring but stepping on that scale everyday and seeing weight loss daily and watching your body transform itself is so worth it. Thank you Dr. Simeons"Constance Mouhidine

"Excellent! It works if you follow the instructions. This is highly effective but you must follow the protocol for it to work.There is great support and information on the website. You can download food guides and shopping lists."Jovian

"Great product and it really works. The most important tip is completing the Phase III so you can set your new weight."Lynn G.

"I do love this product, I have tried it before and it really works!"Pat Gtz

"I've used TrimYou over the last several years when I've wanted to loose weight or just kick-start healthy living and it's been a Godsend! Over the years I've tried every kind of diet and have even worked with a trainer and have found the best results were with TrimYou. First time I lost 30 lbs and was able to keep it off for years, and have gone back when I've wanted to lose a few pounds and it's helped me feel great and has even helped slow down my MS symptoms without being on any medication! I always keep an extra bottle saved and couldn't imagine not having it as my back up. I've referred numerous friends and family who have all seen great results. It's a product that works and I would definitely recommend it to anyone!!"Samara Nieves

"If you are finally serious about getting on a weight loss plan, TrimYou Spray will help you succeed, no question about it!"Kerri Beaver

"I LOVE THIS PRODUCT - I can't imagine life without it. I lose weight so quickly with it. Its no joke, it simply works great if you follow the rules"John M Bates

"I have used this product for 10 rounds and I lost 240 pounds. I did 7 months of research before I would even try it. Discovered it was perfectly safe, and went for it... the first round I lost 32 pounds in 30 days and dropped two jeans sizes. Second round I lost 25 pounds because I ate things I was not supposed to eat. I did some half rounds in between my last two full rounds. 54" waist to 32" waist. XXL shirts to S/M. My metabolism is rocking (I eat bagels, toast and butter and chips with no problem now). I did cut out sugar completely though. This is not a quick fix that will be long-term if you do not adhere to a healthy lifestyle. No, you don't have to eat birdseed but you do need to avoid eating junk food and sodas and all the garbage one should not put into the body to begin with. But when you eat carbs your body won't go into shock and store it all. I was 175 pounds in 6th grade. I spent my life fat. I was a fat vegetarian who ate birdseed and I kept getting fatter and the less I ate, the fatter I got. This product saved my life. DO NOT buy any other brand, this is the only brand that gives you enough for a FULL round of 43 days. There are other companies (which I have used) who will sell you a "30 day supply" - but please know there is NO such thing as a "30 day protocol" - it is 43 days for a full round, or 23 days for a half round. They just want you to pay more and buy two bottles. These other companies also offer free samples - don't do it, you will screw up your metabolism and your hypothalamus, this protocol is NOT intended to be "sampled" and then stopped. There are also other companies who have altered their food menu to please people who don't want to be bored with the options. Don't do it. I've looked at over 20 companies and this is the only company that adheres to the strict and successful protocol. If you want results, this is the company to go with. Seriously, if you use the other brands you'll end up losing about 15 pounds in a full round while with this company you'll lose 30 pounds in a full round. You may think 15 is good, but once you've done the real deal here, you'll know there is no other option."E.E.

"I have used this product in the past. I was in awe of my results. Everything the manufacturer stated concerning the product came true for me--You do need to follow the instructions though, and not cheat. If u do cheat or go off program a day or so u will pay the price of losing a few days of weight loss. Being steadfast to the instructions will be so very rewarding, and u will not be greatly hungry with this spray, just as the instructions say. TrimYou Spray is a product I truly believe in."Mary Feris

"I love this spray; helps with energy and appetite."Karen Goyen

"I had used this spray to slowly lose weight over the last 5 year. I didn't want shots or a quick fix. I wanted something that would work and work well. THIS DID IT! When I started I was 282 pounds already lost 28 on my own when I found this. The small meal was okay and I figured for only a couple of weeks I could do this. I lost a total of 35 pounds gaining back 6 (cycle time was tough) but afterward no other weight gain. By then my stomach had shrunk a little and I was able to keep up with the smaller meals. I don't exercise but I do try to eat healthy to not gain the weight back. If you follow the rules and don't cheat you will lose the weight. I am now at 202 and still going. Slow and steady."Nicki

"I bought it back to 2011 and now in 2016 again. They promise YOU LOSE WEIGHT and you really lose weight. How fast? It depends on you - its 4 pounds a week in my case. Will you have any starving or hunger? No! Will you need willpower? A little! You eat 500 calories a day for 43 days after probably eating 5,000 calories a day for 43 years. The food allowed is not your buddy chocolate cake or juicy beef enchilada... But believe me, you CAN do it! You will eat a very small pathetic piece of grilled or boiled chicken breast with plain cucumber and apple and feel full. And every morning you will SCREAM YES! and WOW! standing on a scale that was not moving down for so many years that you probably kept buying new ones thinking - my scale doesn't work! The point is YOU CAN and YOU WILL lose weight. I sleep great now, skin is good, high blood pressure disappeared, joints work perfect, no back pain, no stupid headaches with no reason, lots of energy.... So I feel great and young!
Happy shrinking!"Nora

"TrimYou Spray works very well as long as you follow the directions in the guide they e-mail you. You will not believe that they ask you to overeat for Phase One but I am here to tell you that you will be better off by doing so. What the product does is fires up Ketosis activity which is your body's ability to burn its own fat for fuel and thereby greatly reduce the need and desire for daily intake of a lot of calories. I will say the first week was probably the most challenging because I am just habituated to eating a certain way. I will also say that by postponing the first meal of the day until around noon as often as possible also helped make the process work even better. I have generally lost a pound a day on it once things got rolling. It seemed like it was almost entirely belly fat so pretty amazing. I am not going to claim that you don't need any self control or you won't feel hungry at times but if you keep your eyes on the prize it will help you get through it. The hardest Phase is probably Phase 3. P.S. I am in the food business and constantly surrounded by food as well as married to a fantastic cook so a challenging scenario to say the least."Doug Lindsay

"Love it! I'm on my 2nd round and down 40lbs from when I started it. My husband did it with me and he lost 40lbs and has maintained his weight for 3 months already! I still have more to go, but I'm LOVING the results. I'm enjoying feeling great, looking better than I have in over 10 years, eating healthy and not having to kill myself with exercise and expensive shakes and supplements. If you need to lose weight and can really invest yourself for a few months on this diet, then it is TOTALLY worth it."Meira I.

"I used this six years ago, lost 26.5 pounds and kept it off! I researched this diet extensively (and others) and thought this would be the best fit for me. It has rules to follow that are laid out very plainly, as well as the support site which I find extremely valuable. If you have a question you can post it there and it will be answered. There is even a chat to connect and talk with others who are also doing this. The support is tremendous!"S. J. Glascock

"Lost 30 lbs in the first 3 weeks. Gained about 5 back just recently....so I am going to order it again and do another 21 day regimen. Had lots of energy....the key is to really load up on the carbs before you start. The recipes are great. And best of all....you are limited at the grocery store...so no more wandering everywhere - you go to the vegetables and the fish/chicken counters. The Walden Farms 0 calorie dressings are really good too. They spell out the entire regimen....follow it and BAM you'll see the results in the scale."Lois McManus

"This product really works. I have been using it since 3 years ago. I lost 15 to 20 pounds every time i decide to use it as they said. Even I ate junk food I can lose pounds when I come back to my senses. You need to be sure you really want to lose weight, because you will need all the help you can get and this product is that help. I recommended it 100%."Deisy Rodriguez

"I have used this for the past several years periodically when I wanted to trim down. At the beginning I checked with my primary care doctor who teaches at a University Medical Center in Southern California. His response at my weight loss? He told me that TrimYou Spray is okay to use once a year or so. There are no side effects. TrimYou works for me even when I don't follow the diet protocol as my spouse does not want to follow it with me. I cut down my caloric intake and follow some of the protocol. And guess what? It still helps me trim 12-15 pounds over a 14 day period. And I feel great doing it. This is not a diet plan but a protocol. "Joseph Ellis

"I felt I still need to lose another 25+ pounds to be at a truly healthy weight. A family friend recommended to me to try TrimYou Spray as an equally effective option and at a fraction of the cost I had invested with the injections. After reading about the TrimYou plan and their company reviews I started with the TrimYou spray plan 2 months later. I was wonderfully surprised on how effective the program worked for me and how I was able to drop another 29 lbs. I had fabulous results in the 43 day program and lost on average 3.5 - 4.5 lbs. each week. What I LOVE about the TrimYou plan would have to be how easy it is and mostly the online support that the company has. Thousands of members that I could touch base with and learn from. This was a huge key to my success because any time I had questions about food options, portion size, delays in my weight loss for 1-2 days, I only need to seek the advice and encouragement of fellow "EXPERIENCED" TrimYou members who always have input and insight to help me through any trick questions or situations like eating out, or while eating at work, or Phase 3, etc. I made such a transformation in my health and weight loss that so many of my friends and family have also tried theTrimYou product with similar results. This is a weight loss plan that works. I would certainly say that you have to follow the plan and work with the guidelines ...... (cheating never works),.... but TrimYou enabled me to regain a healthy body weight and drop one of my HB medications and my prescription acid reflux medication as well. Everything takes work and commitment but with this product I was finally able to have the success that I thought was impossible before."Lori Nebelsick

"When used right this product is amazing. It is the only diet plan that actually works for me. If you don't plan to keep the diet perfectly it is not worth buying but if you follow the protocol exactly you WILL see results"D Bloch

"The TrimYou product really reduces your hunger cravings. Along with the protocol (which you can download with an order) it was the easiest weight loss program I have done. When I need to drop a couple of pounds, I go back to the spray and diet and the pounds are not hard to drop. Great product!"Michelle S.

"I have used TrimYou Spray and found it to be absolutely true to it's promises if you follow the protocol. Not only myself, but I know several of my friends who have used the product and have been very satisfied with it.... you lose weight with this product. Despite the promises of other supplements this really does work."Steven A. Loopstra

"It really does work!!!! You steadily lose throughout the course of the second stage. The recipes you are provided are yummy and break up the monotonous protein and veggies"Marcelle Whipple

"This product helped me get my life back. I was big and I had tried every diet. When I diet if I'm not seeing results quickly I get frustrated and fall off. This diet/spray did just what I needed. It was hard at first but soon, with no cheating, your body and mind adjusts. I lost 40 pounds doing a full round and never felt better. I started running and watching what I ate a little more closely and have been able to keep the weight off for 7 years. My friend did this diet with this spray and she cheated here and there and was still able to lose 28 pounds. I love this product and if I feel myself gaining too much weight I grab the spray and do a half round. TrimYou is also wonderful because they have amazing online support. All the documents you need and a chat room that you can ask any question you may have. The website was essential to me sticking on the diet. When I wanted to cheat and give up I jumped on the chat room and was surrounded by support. I have also tried the drops and they are much harder because you have to take them three times a day, 20 minutes before you eat. If you're like me and life gets busy that is pretty hard to work in your schedule. The spray you do it in the morning and the night. It's perfect, you don't have to pack it with you everywhere you go. I highly recommend this diet to everyone! It is amazing!!"J. Ellison

"This is a great product. I know the company is honest and you're really getting the full product. For me, there were no side effects, I wasn't hungry, I felt terrific the whole time and so much energy. I use it off and on, and it helps me learn what foods make me feel good."Rosie and Curt Harsch

"I have never found a diet that delivers as promised before I found TrimYou. It was just crazy how the fat just melted away. The diet certainly requires great discipline, as the menu is very restricted, however if it is followed correctly the results are just amazing!"Davis S.

"In the spring of 2010, I did one full round of TrimYou Spray. I lost 35 lbs, was not hungry, felt energized and much less pain while on the Spray. That one round allowed me to reach my natural normal weight and re-set my metabolism. (I did it to help heal my metabolism and the resulting weight loss was just another miracle blessing.) After completing the maintenance stage, I easily stabilized my weight. My husband decided to do a half round and he has never been above his final weight since completion - also in 2010."Sally Littleton

"I used the TrimYou Spray to lose 30 pounds in 35 days and I've kept it off for two years. Now I'm working on the last 10 pounds I would like to lose. With TrimYou Spray I was able to easily stay on plan without any hunger pangs at all and the weight came off of the places I wanted it to go like my stomach bulge."Peg Kauer

"The first time I tried this product I lost 18 lbs and got down to my perfect weight. Whenever I feel the need to lose a few pounds, I now have a guaranteed way to do it, and without losing energy or having cravings! The science of homeopathy is real!"Ruth Rendely

"I used this product for 21 days and followed the diet and lost 12 pounds in the phase 2. I am now going into the 3rd phase have had so much energy and was never hungry."Elaine Posada

"Great product that really works if you follow the guidelines."Dessorie Jones

"This product is amazing! It has helped me and my family lose a lot of weight ever since I started taking it.
Thanks guys!"Cornelius King

"The only thing I've ever used that works for me. However, it's critical to read the Pounds and Inches book first. You must understand how and why it works. Even though you will lose weight easily with it, it's not your usual diet fixer upper. It's way better and more than that. Safe with no side effects I've ever found. Highly recommend it."Sharon Wilkinson

"This is the only thing that has worked for me to lose and control my weight. 125 lbs down and only 40 lbs to my goal!"Shairise Warner

"I've used this product more than once....the 1st time was a few months before I was going on a luxury cruise in Europe for the 1st time. The spray is easy to use, and the eating plan can be hard for some, but after the first few days I had no hunger, and my food tasted wonderful! I had great energy too. I lost quite a bit of weight doing the protocol -- and the best part was keeping it off for almost 2 years with no effort whatsoever. I gained about 5 lbs back, so again I went on the protocol, and that and more came off, and again stayed off for a long time. I just ordered another round, and am looking forward to looking good in Hawaii later this year."Rev Angelica

"I have done many rounds (had more than 60lbs to lose) and the thing I was worried about the most was hunger. TrimYou allows you to do a VLCD without hunger! I've tried VLCD without it and I was sick! TrimYou has changed my life. I now enjoy being a healthy weight and like to exercise and I learned to eat healthy and break food addiction. TrimYou has an online support group/community that will be there throughout your journey. They are very clear about where and how the product is made. I recommend it to all who want to lose fat."Isaias Rubi

"Lost 20 ibs in 23 days. Easy but really specific!! Please read through all materials!"Ronald Chojnacki

"This product works great! I lost weight and went down 2 pants sizes!"Berd Hand

"Easy to use. Just have to be strict on the meal planning."Christopher A Foster

"The only thing that works and helps me lose weight! I have been using it for years."Margret Hill

"I've tried all kinds of diets over the years. This is the first one that works consistently for me. I'm down to Junior High School weight at 53. Yeah, me!!! :)"Karen G Barrows

"This is my go to weight loss supplement. I've lost track of how many times I've ordered it because it works that well. If you are looking to take off 20 to 40 pounds quickly then this is the product for you. You can lose 40 pounds in just 2 months. The reason I have used it so many times is because I haven't made the healthy eating lifestyle change yet. If you are willing and ready to make that change then you will only need to order this product once."Tonja Kraft

"It seriously just works as long as you follow the protocol. I would highly recommend :)"Lindy Moraca

"The product really performed better than I expected."Ken Spira

"TrimYou works. I know what you are thinking. Snake oil saleman, no way. Truth is this product does work and I will be happy to tell you how and why it has worked for me and countless others. The best thing about this product is that it comes with all the instructions and a support website to help you along the way. The food list is simple. All items can be purchased at the grocery store. You will see results in the first week. At this price how can you not give it a try?"Susan Miller


"This product actually works! If you follow the directions explicitly, I guarantee you will lose 50 pounds in less time than you could ever dream of. I am satisfied with the amount of food I'm eating AND I have NO hunger pain or cravings. Over the past 30 years I've tried every diet known to man......none of them gave me the results this one has."Diane J. Marrs

"I really like the way I feel. On about day 3 it's like all of a sudden I am feeling good. I have more energy and actually feel like doing stuff. I've done this before and have lost my way (all on me!) The support is really good and great questions in the q&a section that answered all my questions."Debbra Comstock

"The TrimYou program is a massively successful program and I highly recommend it to anyone who struggles with losing weight. Read Dr. Simeon's book and FOLLOW THE PROTOCOL! That is the key to success!! It's a natural detox while you follow it as an extra bonus!"Jenny Cochran

"TrimYou Spray does really work. I lost 25 pounds on my first round in a month. Doing the protocol is an adjustment because you have to adhere to a strict diet, but the upside is you won't feel hungry. The biggest challenge is staying on protocol and continuing on if you cheat. You lose so much weight so quickly however that it's not hard to bounce back. I did have trouble with the second phase, but there is a lot of support from the forum and the manufacturer."Shawn J. West

"This system works, just try it and get over the fact that you can't overeat greasy and sugary foods. If you take this out of the equation the diet is easy as pie. I had cravings but really was not hungry and didn't suffer weakness or fatigue. The diet with TrimYou Spray is remarkable, quit thinking that food is the center of life and get with living..."Wesley Stallmann

"I love the product."Leslie Hunter

"I have used TrimYou Spray off and on for the past 5 years and it has helped curb my appetite and lose weight fast! The weight stays off if you are true to the diet and spray."Marvin E Patterson

"Simply the best diet I have ever tried and it worked - I lost a total of 95 lbs, plus had a kid and still kept the weight off."Mariana Antoun

"I have used TrimYou in the past and lost 40 lbs, I have energy, no more back pain, knee pain or ankle swelling I feel great!!!"Glenda Williams

"I first tried TrimYou Spray 3+ years after seeing results my sister had. I lost 30 lbs. It was amazing especially after many other diet plans did not work for me. I tried the diet plan without the Spray and did not have the results, so you need this Spray....I just did another round and lost 15 lbs. I will always keep a bottle on hand."Robyn G.

"This is the only diet plan that's worked for me in recent years. I initially used the Spray in 2010 and lost 22 pounds. I've done the short form a few times when I'd gained back some pounds. I've always have plenty of energy, don't feel hungry and sleep well. The weight falls off quickly and I like that you're eating cleanly with real food. I've recommended this diet to others - and it's also worked incredibly well for those with the discipline to follow the plan. Try it."Suzanne Habbershaw
Legal Disclaimer: The FDA has not approved TrimYou Spray to lose weight.
TRIMYOU SPRAY AND SIMILAR PRODUCTS HAVE NOT BEEN DEMONSTRATED TO BE EFFECTIVE ADJUNCTIVE THERAPY IN THE TREATMENT OF OBESITY. THERE IS NO SUBSTANTIAL EVIDENCE THAT IT INCREASES WEIGHT LOSS BEYOND THAT RESULTING FROM CALORIC RESTRICTION, THAT IT CAUSES A MORE ATTRACTIVE OR "NORMAL" DISTRIBUTION OF FAT, OR THAT IT DECREASES THE HUNGER AND DISCOMFORT ASSOCIATED WITH CALORIE-RESTRICTED DIETS.